ByteNight (2011)
From Hackerspace Brussels
ByteNight (2011)
Sat 05 Feb 2011 20:00
till Sun 06 Feb 2011 11:59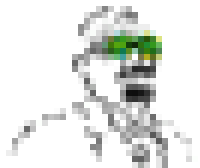 What:
Beatsy peeps on the 8bit vibe.
Tagline:
8 bit all over the place
Where:
HSB Brussels,Belgium
Cost:
0
Who:
hsbxl
URL:
What is the ByteNight?
[
edit
]
Alike last year, we open up the hackerspace for /The ByteNight/, a party/lounge/bar with 8bit music on the Saturday evening/night of FOSDEM2011 (5 Feb @ 20h). Remember Atari and al?
How to get to HSB from Fosdem
[
edit
]
From Fosdem :
Get to the top of Avenue Heger (the pedestrian street in the middle of the campus)
Go to Buyl tram station
Next street on the left, HSB is av. princesse elisabeth 46
gotta find some tracks together (pref CC, so we can use them still later)
build a sound player with touch screen interface
got a musician , not really game 8bit but other music bit reduced bit, noisy :-)
play 8bit chiptunes stuff, maybe p has some effects we can put it trough?
Hardware
[
edit
]
C64 ?
TV's
Any 8-bit hardware

can bring my atari 2600 and we hook it up to the TV (fs111)

beamer (with fs111 atari ? )
Soundsystem / lights
Liquids
[
edit
]
We need to stuff the fridge.

Beer (Jupiler I guess, something else?)
Cola
MATE!!!111!eleven!!
8bit mate cocktail?
A range of Soda Pops - same brand as the Club-Mate