PANPANPAN: V-2 Install Party
From Hackerspace Brussels
PANPANPAN: V-2 Install Party
Sun 21 Oct 2018 11:00
till Sun 21 Oct 2018 0:00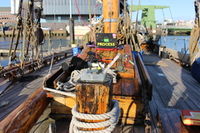 What:
radio/streaming broadcast device
Tagline:
install party
Where:
HSB Brussels,Belgium
Cost:
free contribution / hardware mim 65
Who:
ooooo
URL:

The PiBox is a modular system of radio/streaming broadcast, composed of multiplers inputs and outputs. The box provides a multi-functional and easy-to-use micro-fm streaming station. The PiBox has been developed within the collective ∏-node.org. The system isbased on open source software / open hardware.
http://p-node.org/doc/index.php/V-2_-_definitive_step_by_step_installation_guide
context:
PAN PAN PAN is a durational program to develop and implement a public performative interface for translocal radio telecommunication. While setting up securely an autonomous infrastructure and hardware, we empower ourselves by collective disembodiement, common voicing, and practices to commonize and decolonize our technologies.
open for all - transhackfeminist - *