Hackerspace Brussels
From Hackerspace Brussels
About HSBXL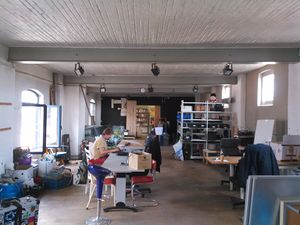 Hackerspace Brussels (HSBXL) is a space, dedicated to various aspects of constructive & creative hacking, located in Molenbeek. The space is about 300 square meters, there is a little electronics lab with over 9000 components, a library,and lots of tools. You're always welcome to follow one of the workshops or come to the weekly Tuesday meetings, hack nights or other get-together events.
Upcoming events
In case you can't find our Tuesday meetup here: we've just been too lazy to add it: feel free to come over and, even better : add it yourself (*).
You can also view the PastMeetings and what you missed...