170718 Co-Learning : Blender
From Hackerspace Brussels
170718 Co-Learning : Blender
Tue 18 Jul 2017 19:30
till Tue 18 Jul 2017 0:00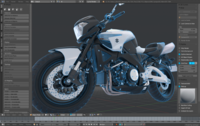 What:
Co-Learning : Blender
Tagline:
An opportunity to meet others with the same interests, Blender being one of those.
Where:
HSBXL Brussels,Belgium
Cost:
a smile
Who:
Mowzes,
URL:

We all have projects that demand learning, why not do it collectively ?
Blender is the free and open source 3D creation suite. It supports the entirety of the 3D pipeline—modeling, rigging, animation, simulation,...
There is no course planned and no expert(s), but if there is a expert interested to come be our guest!! No skill level requirements, open to everyone. The idea is to try to start on your own Blender-projects and help each other.
Make sure you have Blender installed. https://docs.blender.org/manual/de/dev/about/contribute/install/linux.html
How to get in ? https://www.youtube.com/watch?v=vZiomJd5ar8